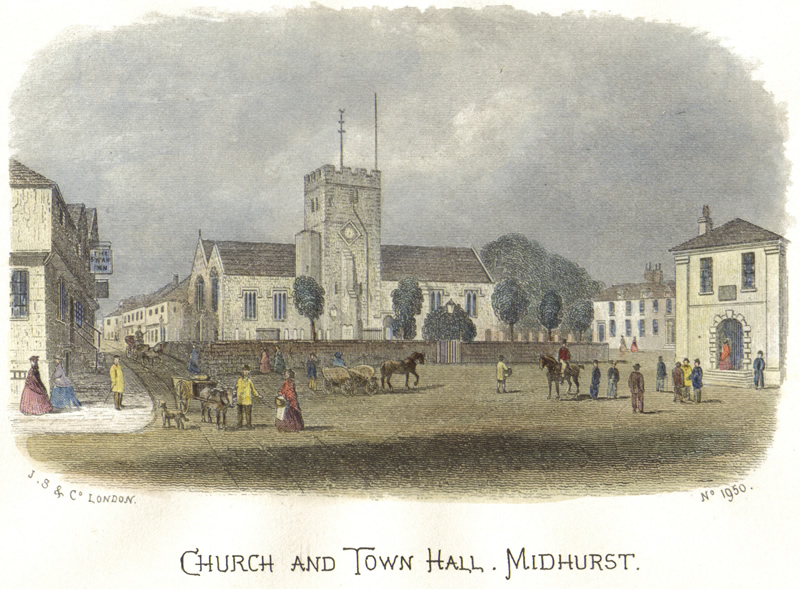 Midhurst is a market town and civil parish in the Chichester district of West Sussex, England. The town is situated on the River Rother and is home to the ruin of the Tudor Cowdray House and the stately Victorian Cowdray Park. In 2002 Country Life magazine rated Midhurst the second best town to live in, in England.
Formerly standing within the grounds of Midhurst Castle, the Parish church of St. Mary Magdalene and St. Denys was mentioned in 1291 and later in 1367 as standing, "in a place called Courtgene".  The interior of the church has undergone much restoration and change and little evidence exists of its medieval heritage. Consisting of chancel and nave flanked by aisles on both sides, the church was largely rebuilt in the perpendicular style in 1422, towards the end of Henry V's reign.
In 1605 the owner of Cowdray House, Anthony-Maria Browne, 2nd Viscount Montagu, was briefly arrested in connection with the Gunpowder Plot. He was suspected as a plotter because he briefly employed Guy Fawkes as a footman and stayed away from Parliament on 5 November following a warning from Robert Catesby. He is buried in Midhurst Church.
The author and science fiction novelist H.G.Wells lived in Midhurst during the 1880s. He worked briefly as an apprentice at a chemist and a few years later he joined the Midhurst Grammar School where he was both a pupil and an assistant teacher.
Between 1913 and 1985, the Midhurst Brickworks, famous for producing "Midhurst White" bricks, was situated close to the former Midhurst Common railway station.
Midhurst now home to the South Downs National Park Authority; the headquarters are based in Capron House in the town. The National Park uniquely combines a biodiverse landscape with bustling towns and villages, covers an area of over 1,600 km2 and is home to more than 110,400 people.
Recognised as an area of outstanding beauty, the South Downs is also home to a multitude of vibrant working communities steeped in history and traditional English culture, from the ancient cathedral city of Winchester in the west to the bustling market town of Lewes in the east.